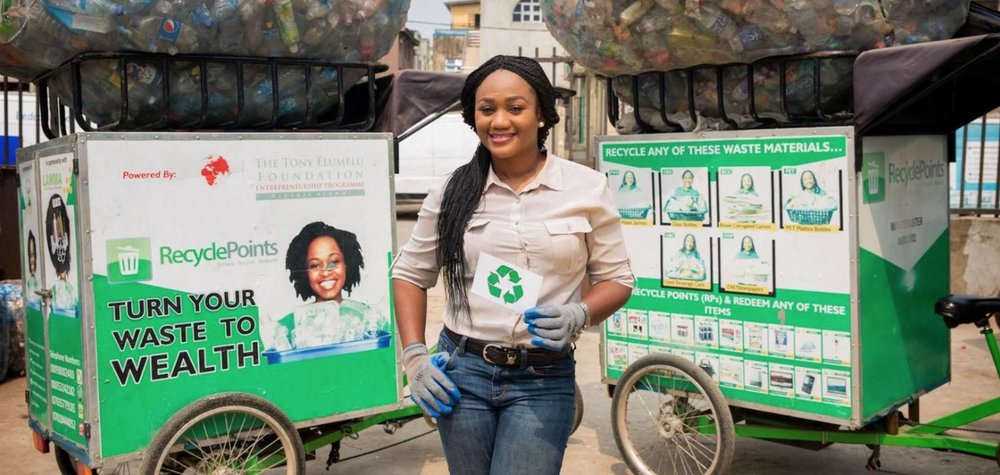 Nigerian startup Recycle Points, co-founded by Chioma Ukonu, on August 29th, during the Open Mic Africa Summit in Nairobi, emerged as runner-up in the 2018 Zambezi Prize for Innovation in Financial Inclusion.
Recycle Points won Chivas The Venture competition in Nigeria in 2016, and went on to emerge first runner-up in the grand finale in LA in 2017.
The prize was awarded by the Legatum Center for Development and Entrepreneurship at the Massachusetts Institute of Technology (MIT), with support from the Mastercard Foundation.
South African startup Wala, founded by Tricia Martinez was named the grand prize winner of the prize, taking home the $100,000 grand prize.
Wala is a mobile financial platform geared toward consumers operating outside the formal financial system. Using a blockchain system, it enables zero-fee, instant, borderless micro-payments for emerging market consumers. Through the Wala platform, users receive a cryptocurrency wallet and can access transactional banking, remittances, loans, and insurance.
The other runner-up was Tulaa (Kenya) founded by Hillary Miller-Wise.
Seven remaining finalists also won US$5,000 each. They are Apollo Agriculture (Kenya), Bidhaa Sasa (Kenya), FarmDrive (Kenya), Farmerline  (Ghana), LanteOTC (South Africa), MaTontine (Senegal), and OZÉ (Ghana).
An additional US$5,000 will be awarded to an African entrepreneur—to be named later this year—who has demonstrated great leadership in unifying Africa's tech ecosystem.
All 10 Prize finalists will attend the Zambezi boot camp on the MIT campus during the MIT Inclusive Innovation Challenge (IIC) gala in Boston on November 5-9. As the Zambezi Prize winner, Wala also won the IIC Africa Prize in the Financial Inclusion category.
The startup will join the three other winners of the IIC Africa Prize, to represent Africa at the IIC global tournament which awards over $1 million in prizes. The IIC event is part of the MIT Initiative on the Digital Economy and, along with the MIT Legatum Center's initiatives, exemplifies MIT's global commitment to the future of work.