Sports journalist Bolarinwa Olajide (@iambolar) has emerged winner of the #FlyLufthansaToRussia contest  with an all- expense paid trip to Russia  from 24th – 28th June 2018. The popular social media influencer competed with tourism expert, Chiamaka Obuekwe (@socialprefect) and Nigerian comedian, Nosa Afolabi (@lasisielenu) to win the Lufthansa Premium Economy ticket and more to Russia.
"We say a big Thank You to all who voted in our "#FlyLufthansaToRussia" contest and of course to our three amazing social media personalities", says Adenike Macaulay, Lufthansa Group, Sales Products and Programs Lead for Sub-Sahara Africa.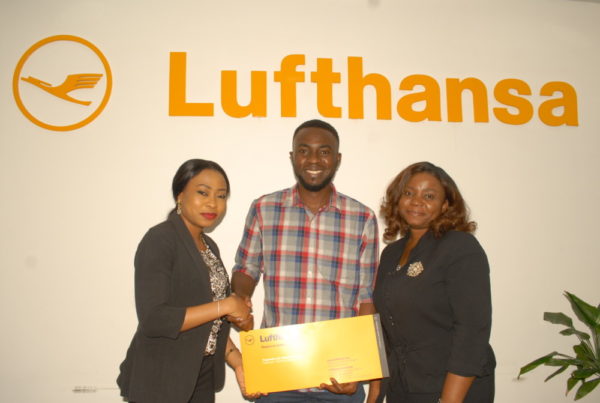 Bolarinwa Olajide won with over 1.9k public votes expressed his excitement of been a part of the global experience in Russia via Lufthansa:  According to him "Flying with Lufthansa was beyond what I expected the experience will be. I had a wonderful experience and still processing the excitement in my head. I must also say that I enjoyed using Lufthansa Flynet, an on board fast and reliable above the cloud Wi-Fi (internet access). It's my best travel experience yet, and I have a sneaky suspicion I will be back soon.
My experience in Russia was fun starting from meeting fans from different countries wearing the Nigerian jerseys, visiting iconic places in Saint Petersburg, and the Trinity Bridge was an emotional one for me as I have never seen a bridge open and close at specific times of the day. A bridge that detaches itself is just wow. Most fans in the country are always ready to relate with other fans. Thank you @Lufthansa for the opportunity I have no choice but to always #SayYesTotheWorld."
Lufthansa offers daily flights from Lagos, Abuja and Port Harcourt via Frankfurt to over 200 destinations in Europe, USA, Canada and beyond.