Music star Rihanna is on the cover of Vogue's June 2018 issue wearing a gorgeous Dolce&Gabbana dress.
For the magazine cover story, Rihanna was interviewed by Chioma Nnadi and photographed by Mert Alas and Marcus.
The 30-year old singer talks to the magazine about her new movie Ocean's 8, taking time away for er relationships (she's rumored to be dating Saudi businessman Hassan Jameel), her body image, her relationship with Drake, turning 30 and more.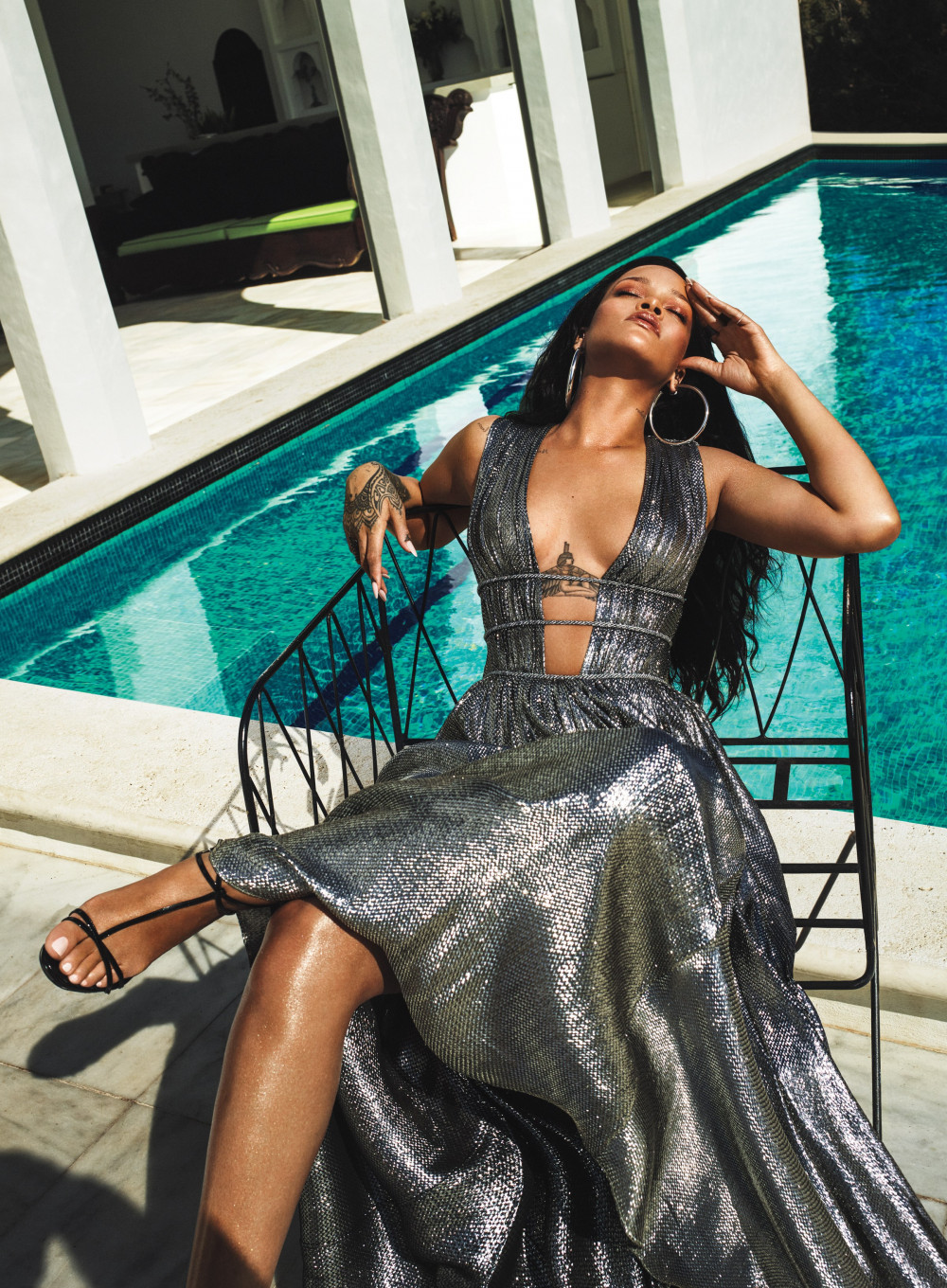 Read excerpts below.
On taking time away for her relationships: I used to feel guilty about taking personal time….but I also think I never met someone who was worth it before.
On having a healthy work-life balance: Even mentally, just to be away from my phone, to be in the moment, that has been key for my growth. Now, when I come to work, I'm all in. Because before you know it, the years will go by. I'm glad I'm taking the time. I'm happy.
On her body: You've just got to laugh at yourself, honestly. I mean, I know when I'm having a fat day and when I've lost weight. I accept all of the bodies. I'm not built like a Victoria's Secret girl, and I still feel very beautiful and confident in my lingerie.
On turning 30: OK, so now that I'm 30, are there things I'm supposed to do? Should I be worried? Should I be freezing my eggs? What do you do at 30?!
On her beauty brand having over 40 foundation colours for black women: As a black woman, I could not live with myself if I didn't do that. But what I didn't anticipate was the way people would get emotional about finding their complexion on the shelf, that this would be a groundbreaking moment.
On her relationship with Drake: We don't have a friendship now, but we're not enemies either. It is what it is.
On Drake's VMAs speech for her: The VMAs is such a fan-focused awards show, so having that energy around me, and knowing the people who had received the award in the past, made it feel like a big deal. Waiting through that speech was probably the most uncomfortable part. I don't like too many compliments; I don't like to be put on blast.
On being a role model: That title was put on me when I was just finding my way, making mistakes in front of the world. I didn't think it was fair. Now I understand the concept, but at that time I was the same age as the girls who were looking up to me. And that's a really hard place to be in as a teenager.
On being 'savage': Savage is really about taking complete ownership of how you feel and the choices you make. Basically making sure everybody knows the ball is in your court. As women, we're looked at as the needy ones, the naggy ones, the ones who are going to be heartbroken in a relationship. Savage is just the reverse. And you know, guys don't like getting the cards flipped on them—ever.
On losing her cousin to gun violence: I really hugged my cousin the night before he died; I didn't know why. Now each time I hug somebody lately, I hug them like it's the last time. That may be my biggest life lesson, not to wait on anything, not even tomorrow. Tomorrow is too late in my opinion.
For more from Rihanna, visit Vogue.com.